MG Intergenerational Photo Projects 2010-2015
---
2010-2011 Project...Where it all began!
About You-Me Memories

In the Fall-Winter of 2010-11 we created an Intergenerational Photography Program with a theme of

"

About You – About Me… Together

" specifically designed for the participants at

Morningside Retirement and Health Services (MRHS)

involved in

The Memory Tree Program

. The Program included 4th-5th graders from a local elementary school in Manhattan who met with their Senior Partners for 9 weeks after school with the theme of "

Learning About You - Me

". They worked in pairs interviewing each other and then

taking photos

that helped to illustrate each perspective, i.e. their lives/homes, family, hobbies, jobs, hoped for careers, places they have visited.

By the end, we had put together an illustrated story booklet of our time together, a photo calendar and a memory placemat to remind us of what we had learned and shared TOGETHER!

---
---
2011-2012 Project...Going Green adventures are planted...See them grow !

Everyone was so excited about our 2010-2011 photo safari
Memory Tree Project
that we decided to just KEEP ON GOING! So, we invited our colleagues at Teachers College
Center for Food and Environment
to help us with our "
Going Green
" theme. We all learned about
GreenMarkets
, eating and cooking healthier...and just between our 4th-5th graders from the community and Senior Partners we took MORE THAN 3,750 digital pictures throughout our 2011-2012 season!
Chefs Marco and Emily
and team were able to help us shop and make fabulous
summer, fall, winter and spring
recipes
.
Check out our 2011-2012 pictures.
We're not sure where we're going next year but we're
hoping
we can keep on "
Going Green
" !
2011-2012 Theme: "Going Green"
Spring Summer Winter Fall


2013-2014 Theme: "Going Greener" !


The 2011 and 2012 'Going Green' Teams and 2014 'Going Greener' members

Yes...we continued to go even Greener in 2013-2014 along with adding to our recipe collection - photo gallery and new learning about composting and edible plants, too! Stephanie - extraordinaire Food and Nutrition student and Blogger from our Teachers College partner team joined us this year - helping to create exciting, easy to make-healthy snacks! AND we entered the world of growing and eating edible plants AND script writing & movie making! Check out our short MOVIE clips below of our Going Greener experiences! (Click on FULL SCREEN logo for the full effect!)

---
---
Going Greener with
John & Lucienne-March, 2014
Earl Grey Spiced Fruit Compote

Going Greener with
Jeanny & Naomi-May 2, 2014
Hummus "Sushi" Sandwiches

Going Greener with
Mary & Chris - May 9, 2014
Peanut Butter Bits-Mint iced Tea



Going Greener with
Gwen - May 16, 2014
Chocolate Mud Pudding
2014-2015 Theme: "Going Greener with the Birds" !!
We really got on a roll with our incredible
Stephanie
from
Food and Nutrition
TC program and her team...and we decided to even include "the birds" from our community in activities with lots of
Audubon
and other environmental groups, too. We even had to expand our website just to showcase our work!
CHECK IT OUT!
---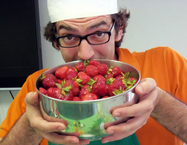 Photo by Surendra, a Senior Partner
Sometimes you just have "to believe" in order to make things happen...and we still do!

CHECK OUT THE DONATE LINK ABOVE for the details...PASS IT ALONG TO FRIENDS!
---